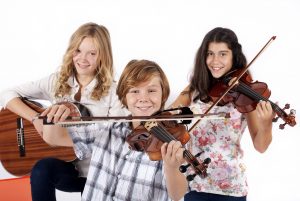 We offer a variety of classes and instrument tuition ranging from modern to classical to traditional music, and students have a choice to prepare for exams or learn for fun.
All ages and levels are welcome from pre-school children age 3/4 to retired adult students, and everything in between. Most of our classes are done on a one-to-one basis, enabling the teacher to tailor the syllabus to suit the individual student. We offer a range
For children aged under 7/8 we recommend the Introduction to Music course to first gain experience with music before starting an instrument while their co-ordination and concentration are developing, hands are growing, and reading ability is progressing.
Introduction to Music for Kids

Introduction to Music for Kids (Pre-Instrumental)
This course is designed for young children who are learning to read and write.  The building blocks of music theory are learned and explained with songs, games, activities, and visual demonstrations, all in a fun environment. The goal is to foster musicianship in young children while their hands are still too small to play / hold an instrument and while concentration and co-ordination are developing. Children who have begun their instrument are also welcome; this class will reinforce the theory they are learning with their practical.
The Building Blocks of Music:
Pulse
Tempo
Dynamics
Inner hearing
Development of singing skills
Timbre
Texture
Pitch
Rhythm
Phrasing and structure
How the Building Blocks are learned:
Feel it
Hear it
Sing it
Repeat it
Learn it
See it
Recognise it
Use it
Enjoy it
Question it
Show it
The Kodály approach is used in the class.  This is an Early Childhood Education methodology which originated in Hungary and is a very popular way of teaching music from early childhood education up to advanced study for adults.  The classes feature echo clapping, percussion and rhythm games, singing in sol-fa (do, re, mi), and using rounds. The course also includes workshops on different instruments, understanding how they work and recognising the sound of each.
"To teach a child an instrument without first giving him preparatory training and without developing singing, reading and dictating to the highest level along with the playing is to build upon sand" -Zoltan Kodaly
Schedule for September 2023 (Provisional):
The Intro to Music runs for 30 weeks from mid-September to mid-May.
Please note that class times may change approaching September to cater for demand.
Wednesday 3.45-4.15  Pre-school & Junior Infants
Wednesday 4.30-5.10  Junior & Senior Infants
Wednesday 5.20-6.00  Senior infants & 1st/2nd class 
Wednesday 6.10-6.50  Intro/Ukulele (ages 6-8)
Saturday 10.15-10.55  Senior infants & 1st/2nd class 
Saturday 11.10-11.50  Junior & Senior Infants
Saturday 12.00-12.30  Pre-School & Junior Infants
Saturday 1.00-1.30      Intro/Ukulele (ages 6-8)
Please note that while COVID-19 restrictions are in operation at Coláiste Phádraig, parents cannot attend the class or wait in the hallways.  Only the student attending the class may enter the building.  This is for everyone's safety.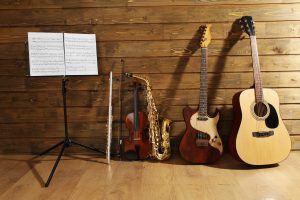 While learning an instrument or theory at the Lucan School of Music it is not compulsory to sit exams but it is an option. Exams can be a opportunity to measure progress, focus on technique, and give motivation to practice. This decision is between the student and their teacher and parents. We offer a range of exam boards as listed on our home page.
All classes are subject to availability. Some instruments are available with Group and Learn with a Friend (two / three sharing a class) options pending suitable ages, experience levels and interests being paired. If you're looking for something that's not on the list please let us know, as we can add new instruments to our roster if there is a demand for them.
Drums

Drums
Drums provide the pulse of almost every style of popular / rock music, providing the core rhythm that every other instrument depends on. Drums and percussion are also hugely important in classical music with their use ranging from concert bands to symphony orchestras. Students have the opportunity to study both disciplines with the prospect of pursuing grade exams.
Classes involve learning rudiments of rhythm to build technique, and how to read rhythmic notation for drum kit.  Beginners would start with simple beats and can progress to more complex rhythms and playing with backing tracks.
The course is individual (no group lessons available due to the nature of the instrument).  For parents who are worried about noise levels during the student's rehearsal there are practice pads available which reduce the volume of the drums and minimise disruption to the household and neighbours!
DJ Skills / Computer Recording / Introduction to Music Technology
DJ Skills
Learn all the techniques you need to DJ, and the music theory and principals behind them!
You can learn about mixing Tracks, Matching Beats, Cue Points, Looping, Scratching, using Effects, Sampling, Mash Ups, Mastering your Mixes and more.

Computer Recording / Introduction to Music Technology
This covers an introduction to recording technology, and is especially useful to musicians who enjoy writing their own music or working on recording projects to improve performance. In the class you can learn how to record and mix your own music on a computer / laptop and make your own CDs, and gain an insight into the techniques and equipment used in the industry.
The class is taught by a qualified sound engineer and certified Microsoft Professional who has 15 years experience in studio / live sound.
CHAMBER ORCHESTRA
Chamber Orchestra
Woodwind, string and brass students are welcome to join our Chamber Orchestra which takes place on a Monday evening.  The focus is on ensemble playing to give students the opportunity to play in a group.
This is open to Lucan School of Music and external students.
Guitar: Beginners

Guitar for Beginners
Beginner's guitar is ideal for those of all ages who wish to learn the basics of the guitar,and want to play songs on the acoustic guitar that they or others can sing along to. It is a good starting point for those who wish to eventually progress to the Advanced Guitar or Bass Guitar course.
Chords and finger exercises are used to introduce the beginner to the guitar. Once comfortable with these the student learns songs to develop their ability. The teachers tailor the classes to incorporate the student's favourite music, as this is a great way to encourage practice.   Other songs and styles are also incorporated to improve technique and range. Scales, music theory and chord development will help students progress on the instrument.
It is possible to do exams on the guitar, the most popular being Trinity Rock and Pop or the Registry of Guitar Tutors.
Guitar: Classical

Classical Guitar
The guitar can be used in classical as well as a modern pop and rock music; this course offers students the chance to learn to read sheet music and with the classical style of playing with the option of pursuing grade exams.
Scales and arpeggios are an important part of this style, as well as finger picking with the right hand.  Playing melody along with bass lines on the instrument is common, where the rock and pop style tends to focus on strumming chords or playing single line melodies for lead guitar.
Guitar: Electric / Advanced Guitar and Bass
Advanced / Electric Guitar
Focusing on the guitar techniques of the Rock /Blues /Metal genres these classes will give the student the opportunity to learn electric guitar techniques such as tapping, sweep picking, wailing…. as well as the chance to learn about the use of guitar effects and amplifiers.
Music theory also plays an important role in the classes; students will learn about the construction of chord progressions and guitar solos with the goal of developing improvisation, listening, and composition skills.
These classes are ideal for intermediate acoustic guitar players that wish to learn more about playing chords or solos on the electric guitar. Electric guitar players that want to improve their technique, learn music theory or fingerstyle, or delve into jazz chords and theory would also benefit from these classes.

Bass Guitar
The bass guitar is an integral part of modern music, providing a depth and richness to the sound of a band. Usually working in close partnership with the drums, the bass guitar helps to drive music and adds to the energy / depth of a performance.
From basic notes and songs to chord theory and more advanced songs students can progress to advanced techniques such as plucking, picking, bass chords and slap bass.  These classes are tailored to the experience and goals of each individual.
Keyboard

Keyboard
The most common question that we get asked is the difference between keyboard and piano lessons.  The keyboard classes would often focus on modern popular music, and students would be playing chordal accompaniment on the left hand and melody on the right.  Keyboard students learn how to change voices on the instrument and use the technology that comes with it.  Piano classes would have more elements of classical music where the left and right hand play independent melodies.
There is a crossover in the layout of the keys, theory, and notation for the right hand in both instruments.  The keys on the keyboard are lighter and would respond differently to touch.  It is possible also to get weighted keyboards that emulate the feeling of a real piano.  Often piano students begin with a keyboard to practice with at home.  The main difference between the two is the style of music taught.
It is possible to sit keyboard exams which focus on a more popular music based repertoire and introduce the student to use of sounds and tempo tracks, developing an understanding of the technical side of the instrument to further enhance performance.
Music Theory / Junior and Leaving Cert Music
Music Theory
When you are learning an instrument there is always a certain amount of theory involved in the class. However it can be helpful helpful to do an extra theory class in tandem with the practical to compliment what they are learning while playing. Some exam boards require students to sit theory exams at different levels before moving forward with the practical to prepare for more advanced pieces.
Music Theory classes can help students with many different goals, from basic understanding of reading music to more complicated melody writing and harmony for the Leaving Certificate course or college entrance exams. It can play an important role in developing well rounded musicianship.

Junior and Leaving Cert Music
Music as a subject in the Junior and Leaving Certificate relies on theory as well as performance.  These classes cover all areas of the written theory paper including set pieces, traditional Irish music, melody writing, harmony, listening, and more.
The Junior and Leaving Certificate classes at the Lucan School of Music offer students the opportunity to cover the courses as an extra subject outside school, or the chance to focus on problem areas of the course in a one to one environment.
Piano

Piano
The process of mastering the piano takes many years. Indeed, great pianists spend their entire lives learning and striving to improve. While there are many approaches and methods of learning (each with their own strengths and weaknesses), all good pianists agree on the following: there are no short-cuts. Like most things, however, the more a person puts in to it, the more they'll get out of it!
Early lessons familiarise students with the workings and layout of the piano. Emphasis is placed on correct position and posture at the instrument and students learn the names of the keys as they play (and sing) them. Small technical exercises are introduced to loosen up and strengthen fingers. Once the basics are mastered thoroughly, notation is gradually introduced. Every note that is played is also sung, and every rhythm that is read is also clapped; singing and clapping are essential to internalize musical principles. Small pieces are also introduced at this point, as students begin to 'learn how to learn.'
 Broadly speaking, further piano skills can be categorised into the following:
 Technique:
The physical aspects of piano-playing: fingering, wrist and arm-movement, posture, evenness, fluidity, flexibility, speed, control, pedal, overall co-ordination, etc.
Theory:
Understanding all aspects of notation: pitch, rhythm, dynamics, articulation, expression markings, and so on.
Reading:
The ability to read and play both treble and bass (i.e. upper and lower) notation simultaneously. The eventual aim is to be able to open a random book of unseen piano music and play by sight.. no mean feat!
Tone:
The quality of sound produced. This involves balance, projection of important material, correct wrist and arm movement, singing, shaping of phrases, pedalling, articulation and more.
Expression, Interpretation, Performance etc:
The ability to form an interpretation of a piece of music and communicate its tone, atmosphere, narrative, form, mood, etc. to an audience.
This list is by no means exhaustive; there is always something new to learn. That's part of the joy of it!
STRINGS: Violin / Viola

Violin and Viola
Playing a stringed instrument has a unique set of challenges.  Bowing and tuning are an important part of playing the Violin and Viola and developing tone for students of all abilities.  Scales, reading and music theory are a part of the classes, as well as a wide range of pieces.  Students have the option to play for fun or to pursue exams.
Students playing the violin can also study traditional Irish music.
Voice / Singing

Voice / Singing
Singing lessons are suitable for all ages! Every student will have a different goal so lessons are catered to suit each individual.
Generally the lessons involve learning how to improve singing technique, tone and placement, taking care of and developing the voice, and performance and breathing technique.
Students have the option to pursue exams in a variety of styles including classical singing, musical theater, and rock and pop.
WOODWIND: Saxophone / Clarinet / Flute / Recorder
Saxophone / Clarinet
Perhaps only the human voice has more variety of range and nuance than woodwind instruments clarinet and saxophone.
Each player, beginner or advanced, has their own distinctive tone, and therefore it is vital that we first concentrate on developing that warmth of tone and intonation (tuning).
The saxophone and clarinet are widely used in bands and ensembles. Once the tone is in place we can move on to sight-reading, music theory and technique to equip the student with the necessary tools to play in these settings.
At the Lucan School Of Music our aim is to make these learning these concepts an enjoyable experience, whether the student is focused on learning for exams or learning for fun!

Flute
Flute students can expect to learn breathing exercises to build tone and stamina, and gain an understanding of embouchure and aperture. These are concepts that are very important at any stage from beginner to advanced.  Music theory and musicianship is also a big part of these classes, and all of these elements are incorporated into pieces to match the student's ability.  Flute students have the option to pursue exams, or to learn for fun.
Recorder
The recorder is often used in schools, primary and secondary, to introduce beginners to music. The recorder is especially helpful when moving on to a woodwind / brass instrument, as the breathing and music theory elements learned will be important on any woodwind instrument. It can also be an effective way to gauge a child's interest and aptitude before buying a more expensive instrument.
It is also an important instrument in its own rite, with a variety of shapes and sizes available as well as the opportunity to do grade exams in the classical style of playing. As a melody instrument it can be utilised in many different styles of music.
You can e-mail info@lucanschoolofmusic.ie, phone (01) 6217852, or fill in the form below to get in touch.